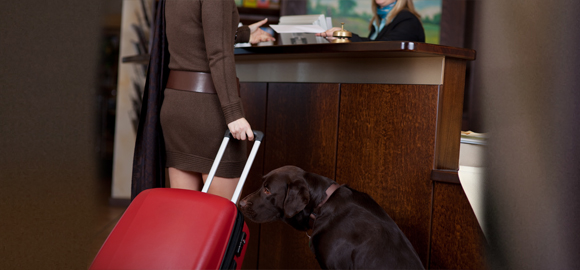 Not every hotel is willing to embrace their guests' furry and feathered counterparts. While that's perfectly fine, those that do make room for pets may soon see an increase in booking.
Today, pets are a huge part of the average family dynamic. The thought of leaving Fido or Fifi at home or in a kennel while owners hit the road can evoke a pang of sadness. So much so that many pet owners opt to stay in a different hotel than originally intended just so their beloved pets can tag along. As of 2013, an estimated 61% of properties welcomed pets into their hotel.
In fact, hoteliers, both domestic and abroad, have gone so bananas over the influx of guests thanks to an open pet policy that they've started crafting elaborate packages tailored to the truly pampered pet. One Paris hotel offers a 'Posh Dog' menu complete with chopped filet of beef and a side of basmati rice. Stateside, some hotels offer exercise classes for both owner and dog to participate in, called 'doga', as well as spa treatments such as 'pet-icures'. If this all sounds a little over the top to you, don't worry – pet owners say there are really just a few key things they're looking for when booking a pet-friendly hotel.
Pets-Accepted vs. Pet-Friendly
Pet parents tend to show allegiance with a particular hotel or chain once they've found one that they like. If you're going to advertise as 'pet-friendly,' it is important that you actually are pet friendly – meaning you don't just accept animals if your guest happens to have one, but you welcome them.
Competitive Prices
This, again, tends to relate back to 'pet-accepting' vs. 'pet-friendly'. An elevated fee for a pet-friendly room is expected and completely fine with pet owners, but sky rocketing pet fees will not make for happy guests. This is seen as false advertising, in a sense. The high prices signify tolerance of pets rather than happily accommodating pets, so be sure to look at what other hotels are charging and keep your fees as competitive as you can afford.
Location, Location, Location
Yes, this has to do with physical location. Pet-friendly hotels on grassy lots avoid the fear that pups will be left in desperate need of a grassy relief. Make sure your hotel has a suitable dog walk area, even if it's just a grassy strip circling the building. Cooped up pups are no fun for anyone. Be sure to place pet waste stands throughout the walk space to encourage responsible pet-ownership.
Even if you are not an animal person, your guests may be, and it's all about their experience. The more fun that they're having at your venue, the more apt they are to remember it, spread the word, and return with Fido on their next trip.