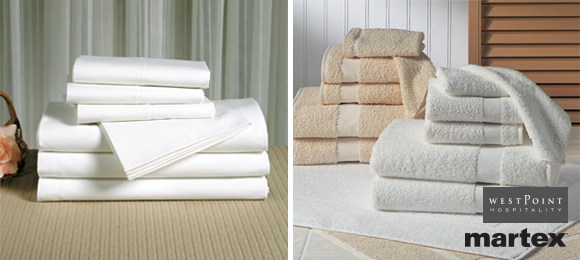 Does the name WestPoint Hospitality ring a bell with you? It should. This home fashion pioneer, with its special hospitality division, is still building on a rich heritage that stretches back 200 years.
Today, you may be more familiar with its celebrated product brands, which include Vellux®, Martex®, Utica® and more. Martex is known by many hoteliers for the high quality products it offers for both bed and bath. The Martex RX bedding program delivers bedspreads and accessories for a more upscale look. A guest favorite is the Martex Classic Touch 200 Thread Count Bed Linens. The crease-resistant finish and proprietary Soft Seal process create a softer sheet for the life of the product. The long-wearing Martex Cam Border Towels are also known for durability. The poly/cotton blend, with 100% ring-spun cotton loops, makes them extra soft and absorbent.
In fact, there is no better time to act on the value of WestPoint Hospitality. These and other great items are now on sale at American Hotel.
WestPoint Hospitality and the companies that represent its heritage are recognized leaders in the innovation and fashion of home textiles, experimenting with new fabrics to meet ever-changing needs. They continue to lead in the areas of social responsibility and sustainability as well.
Being good stewards of the environment, WestPoint Hospitality is committed to managing chemical use responsibly, recycling waste, ensuring wise water use, and continually upgrading its wastewater treatment facilities. In fact, over the past six years, one of their production plant's water consumption dropped by 82%.
In all that it does, WestPoint Hospitality strives to build on a legacy of providing quality, affordable, and fashionable products for every customer. To learn more about the company and its products, visit http://www.westpointhome.com.