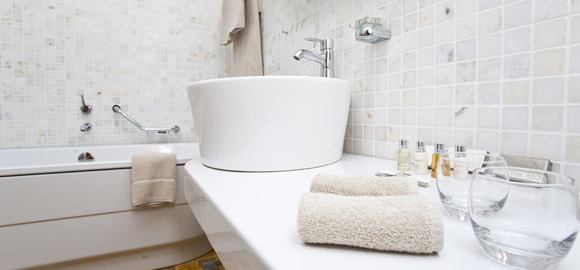 The bathroom is an often overlooked space of the hospitality industry. It's equipped with necessities, stocked with supplies and given mild attention in terms of décor. Unless you were visiting a luxury hotel – one of the ritzy high-end venues that people dream of being married in – this bathroom setup was the staple. Jacuzzi tubs and luxe products were reserved for the posh venues. In recent years, that's all begun to change. Luxurious, spa-like bathrooms are becoming the new normal for mid-level to luxury-level hotels.
It's not surprising that this fad is catching on. It's a great alternative for hotels that don't have an in-house spa. All that's required is a few product upgrades, and wham, just like that you've elevated your guest experience toward the realm of luxury. Just think about how many guests will appreciate spa-like features right in their room. After a long day of travel, when the body is achy and you're far from home, all you want is a bit of relaxation. A spa bathroom is just what the doctor ordered.
Here are a few tips to help make your bathrooms more luxurious.
If you're unsure about the scale of your upgrades, start slow. Revamp the bathrooms in suites, if nothing else. A fair cross-section of guests will likely be willing to spend a bit more to receive a luxurious personal spa. You can rest easy knowing that they'll check out feeling rejuvenated and happy. After all, a happy guest is a repeat guest.