Triple sheeting is a luxurious, cost-effective and efficient bedding solution. It guarantees a clean, crisp bed that is easily managed by the housekeeping staff, ultimately saving considerable time and money.
CLEAN AND FRESH
Sheeting components can be laundered after each guest visit to ensure a sanitary environment.
REDUCES COSTS
Bedspreads can cost $100-$250 per piece, and up to $25 per piece in off-site laundering. By replacing a bedspread with one additional sheet, the Triple Sheeting technique can significantly reduce overall operational costs.
SAVES TIME
Duvet covers cause housekeeping to spend three times longer to make the bed. Triple Sheeting is an easy step-by-step process that can greatly increase housekeeping efficiency.
ITEMS NEEDED: flat or fitted sheet to cover mattress, basic flat sheet, lightweight blanket and decorative top sheet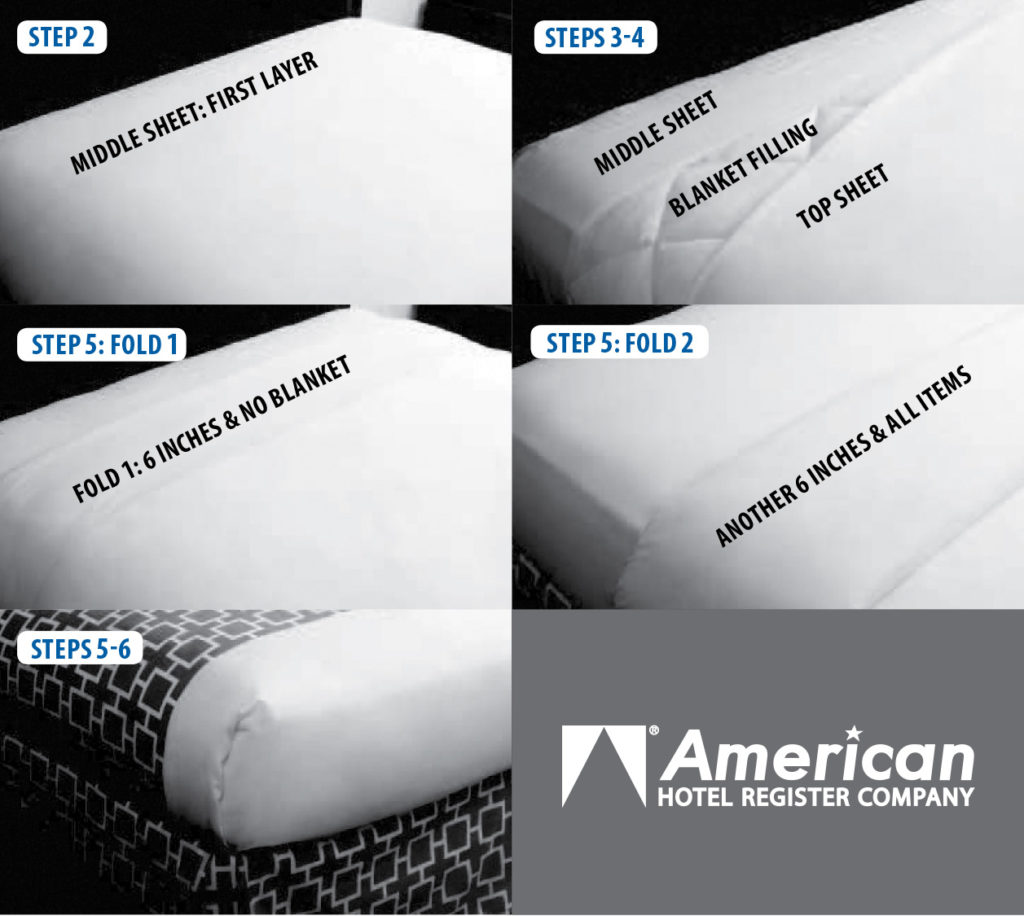 STEP 1: BUILD YOUR FOUNDATION (BOTTOM SHEET)
Option 1: Lay a flat sheet on the mattress and tuck all the way around the bed. Option 2: Use a fitted sheet to cover the mattress.
STEP 2: ADD NEXT LAYER (MIDDLE SHEET)
Place the top hem of flat sheet so it is even with the top of the mattress. The sheet should be even on all sides and smooth.
STEP 3: ADD FILLING
Place a lightweight blanket on top of the middle sheet starting about six inches below the top of the mattress.
STEP 4: ADD DECORATIVE TOP SHEET
Place remaining flat sheet on top of the blanket. The top hem should be even with the top of the mattress.
STEP 5: FOLD
Fold 1: Take the top of both flat sheets and fold down together about six inches (blanket should not be included in this fold). Fold 2: Then fold down the two flat sheets and the blanket another six inches. The sheets should now be folded twice and the blanket folded once.
STEP 6: FINISHING TOUCHES
Tuck in both flat sheets along with the blanket beneath the foot of the mattress. The hanging fabric at the sides of the foot will have made a short U-shape. Turn back the U-shape along the length of the bed then pull towards the headboard, parallel to the mattress. Tuck the hanging corners of the sheet and blanket together under the mattress.