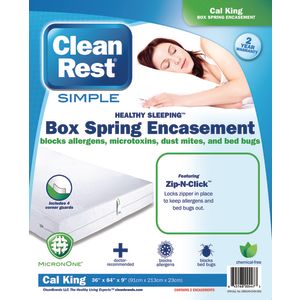 Want to stop bed bugs, stains and spills in their tracks? Turn to CleanRest Pro mattress encasements.
CleanRest Pro encasements are the last encasements you'll buy for the mattress you're protecting. These specialized products, designed using patented technology, offer spoilage and bed bug protection with a 100% waterproof sleep surface. CleanRest Pro encasements promote healthy sleep by blocking allergens and irritants, and they enhance your guests' quality of sleep with their soft, quiet, breathable material. Plus, they come with an unparalleled 10-year full product warranty and exclusive access to their ROI property analysis calculator.
No other product on the market provides the same level of defense against bed bugs, stains and wetness.
Designed with the hotel owner in mind, CleanRest Pro encasements are engineered to last the 10-year life of the mattress, not the 12-month life cycle of the bed bug. Thanks to their stretchy sidewall and bottom fabric, they can be installed and reinstalled easily, and commercially laundered repeatedly, making them the only preemptive encasement solution.
By encasing your property before the onset of an inevitable bed bug occurrence, you're insuring the life of one of your most costly assets, your mattress. The bed bug proof technology of CleanRest Pro denies access to the mattress, causing bed bugs to move further away from your sleeping guests and allowing you the chance to find them before your patrons do.
CleanRest Pro mattress encasements protect against bed bugs, spoilage, and the fallout from negative social media reviews. Protect your investment as well as your reputation with CleanRest Pro.
Here's an added advantage. As a one-stop shopping source for your bedding needs, American Hotel invites you to try a free sample of this superior mattress protection. Call us today at 1-800-323-5686 to order your free sample.