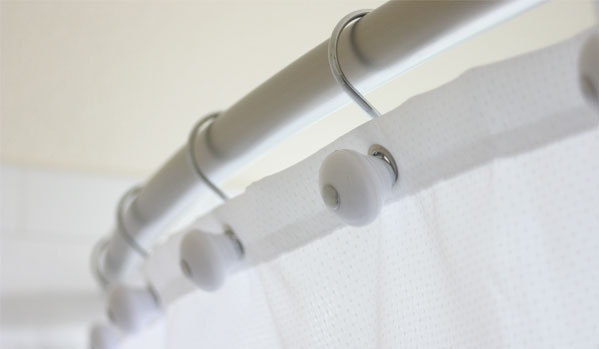 Many shower curtains are still made of PVC (polyvinyl chloride) – also known as vinyl – which includes harmful additives. One study found that PVC shower curtains contained high concentrations of phthalates, which have been linked to reproductive effects.1 Through our private Registry® brand, we ease your concerns with a high-quality alternative to vinyl.
Our Registry Deluxe PEVA Shower Curtains are made without chlorine, meaning they use fewer chemicals in construction and do not emit that strong chemical smell out of the package. Part of our Living Green collection of eco-friendly products, Registry Deluxe PEVA Shower Curtains are designed to support your sustainable approach to business.
Chrome-finished rustproof copper grommets prevent snags and tears while also providing an easy method to insert hooks.
Reinforced 3-ply top header improves durability and extends the life of the curtain.
Antimicrobial finish prevents bacteria from accumulating, and heat-sealed bottom hems prevent mildew buildup.
Registry Deluxe PEVA Shower Curtains should not be machine washed or dried, which saves you time and money. We recommend simply wiping down the curtain with soapy water after use. You should also note that California Proposition 65 requires vinyl shower curtains to have warning labels advising of potential cancer risk. PEVA curtains meet Proposition 65 requirements and do not require any such warning labels.
To learn more about the quality and value of this vinyl alternative, visit americanhotel.com or call us at 1-800-323-5686.
1. Abdollah T: That 'new shower curtain smell'? It's toxic, study says. Los Angeles Times, June 13, 2008, http://articles.latimes.com/2008/jun/13/local/me-showercurtain13, (Accessed 9/12/14).