The Rubbermaid HYGEN™ Disposable Microfiber System is the solution for optimizing infection prevention, ensuring environmental hygiene, and improving productivity. The innovative technology knits microfiber yarn into a nonwoven substrate, creating unique, disposable microfiber with microbe-removing scrubbing power.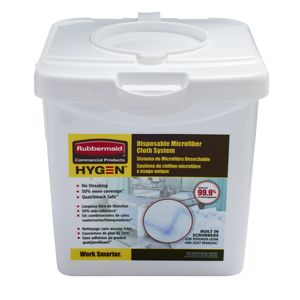 99.9% Microbe Removal, Including C. diff*
Proven 99.9% microbe removal claim
Helps stop the chain of infection
Eliminates food sources for live pathogens
Superior Cleaning Performance
Microfiber cleaning with built-in scrubbing power
Streak-free cleaning for mirrors, glass, and stainless steel
Effectively removes dirt without smearing
Versatile Cleaning
Compatible with bleach and quat**
Ideal for dusting and wet cleaning
Convenient charging system and compatible with existing tools
STOP THE CHAIN OF INFECTION
Microbe removal is a critical step in preventing infection. Removing dead microbes eliminates the food source for live pathogens.
*Based on third-party testing with water only. The product can be used with a wide array of cleaning solutions.
EPA EST. 90650-NC-001
**Compatible with quat (cloth); bleach-safe (cloth and mop)