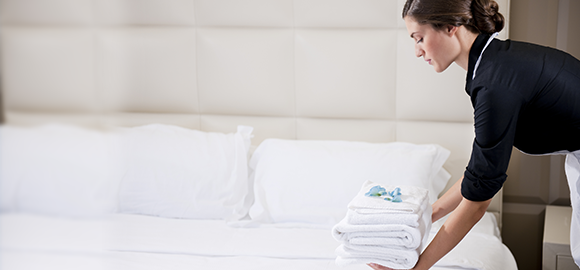 Let's be honest. Sometimes, in hospitality, mistakes are simply unavoidable. Even the most well reviewed hotels have their share of slip-ups. However, as we all know, more mistakes means less satisfied guests, which ultimately leads to fewer bookings. So, it's important to prevent every mistake you can.
For starters, you can't afford to ignore your online reputation. We exist in the world of click and choose information, and prospective guests are checking out your hotel online before booking. Anything and everything – the good, the bad and the ugly – will be available to them with the click of a mouse. So do not ignore what's being said about your venue online. On a regular basis, designate time to research your online reputation.
You can't stop the negative from coming out, but you can choose how to react to it. Positive verbal responses and physical actions taken to resolve an issue go a long way in convincing a former unhappy guest to give the venue another shot. Another good option is to outweigh the bad with the good. Increase your social presence. Fill it with new, exciting content and photos. In short, create an online presence that will instantly get people eager to stay at your venue.
Don't forget that, for most guests, the most important hotel quality is cleanliness. Dingy bathrooms, poorly made beds, housekeepers ignoring 'do not disturb' signs are all bad for business. These mistakes will destroy your reputation, and ignoring cleanliness to save a buck now will end up chewing up your profits later. Your guests are paying top dollar for their home-away-from-home, and they expect it to be treated as such. Sloppy housekeeping and rude maids are a sure way to upset patrons. Be sure to enforce the rules and do regular checks to make sure no slack is catching in the line. Your quarterly report will thank you.
Would you tell any stranger on the street your home address? Of course not. So, would your guests be comfortable with the front desk loudly announcing what room they're staying in upon check-in? Or worse, handing out their room number to anybody who calls asking? It's your job to make your guests feel safe and comfortable under your roof, and your job to train your staff to use discretion.
Quite a few hospitality mistakes boil down simply to paying attention to details. Just by keeping a more watchful eye on your venue and staff, you'll be cutting out reputation-killing mistakes without even trying.
What other common hospitality mistakes would you like to see addressed? Tell us in the comments section below!