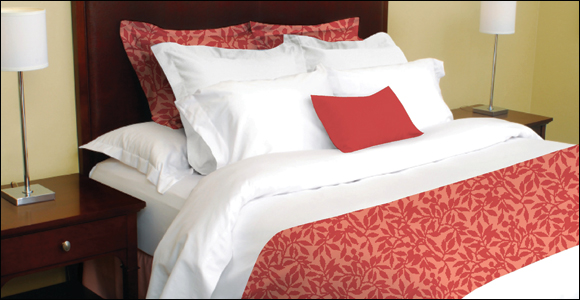 The bed is one of the first things guests look at when entering a room. It has the potential to set the tone for their entire stay and tie the whole room together. And if your bed is stylish, comfortable and clean, it is sure to bring repeat business.
When was the last time your hotel updated its bedding? Do you use accents and pillows for a polished look? If you have to think about it too long, then it's time to take a look at our Registry ® Triple Sheeting options.
Forget the bedspread and bed scarf. Triple sheeting is a simple technique many hotels use to save time and money. Traditional bedspreads can cost between $100-$250 per piece, and duvet covers cause housekeeping staff to spend up to three times longer making each bed. With triple sheeting, the bed scarf is printed directly onto the top sheet, creating a great looking, easy to care for bed.
By replacing a bedspread or duvet cover with one additional sheet, the triple sheeting technique can reduce overall operational costs. And triple-sheeting components can be laundered after each guest to ensure a sanitary environment. It's the perfect technique to ensure cleanliness, style and efficiency.
American Hotel also offers multiple options for pillow shams, top sheets and accent pillows for that final polished, top-of-bed look and comfort. Available in multiple colors for every season and décor style, our bedding products guarantee plush, luxurious comfort and top quality.
Glancing at photos of the Best Hotel Beds, many of them are simple, elegant and use accents to bring the entire room together. Please browse our selection or consult one of our staff to achieve the exact look you're hoping for.