Keep your carpets looking their best with P&G's complete high-performance Pro Line Carpet Care System. It's safe and effective and cleans your carpets in three simple steps using only five products – half the number of products that other carpet cleaning systems use. This means you can reduce your operational costs and improve your staff's efficiency.
The P&G Pro Line Carpet Care System provides…
Powerful Spot Removers to Minimize Re-Work
Whenever soiling occurs, it is important to remove spots, spills, gum or other sticky residue as soon as possible to prevent the spot from becoming a permanent stain. P&G Pro Line offers a selection of specially formulated spot removers that target hard-to-remove stains, like coffee, rust, wine and bodily fluids.
A Bonnet Cleaner to Minimize the Need for Extraction
This type of carpet cleaning, considered a "lighter" cleaning, employs a rotary carpet shampoo machine and a special carpet cleaning pad. Bonnet clean your carpets weekly or monthly to clean top fiber sections of the carpet. Regular use of P&G Pro Line's Bonnet/Traffic Lane Cleaner will extend time between extraction cleanings.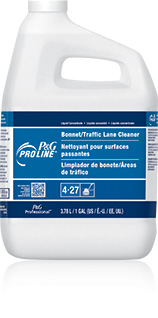 A One-Step Extraction Cleaner & Deodorizer
Extraction cleaning should be done when the carpet looks heavily soiled. In extraction cleaning, hot water and cleaning agents are applied to the carpet pile at high pressure to loosen dirt. Almost simultaneously, the water, dirt and cleaning solution is removed, leaving your carpet clean and fresh. P&G Pro Line's Extraction Cleaner saves time – it cleans and deodorizes in one step.