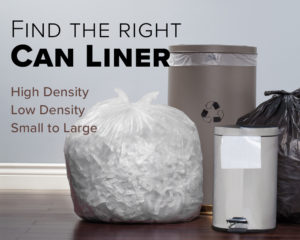 Trash can liners is another one of those hotel essentials you never want to run low on. And it's not a one-size-fits-all assignment. Size matters, and so does liner type. Let's take a careful closer look because we all know haste makes waste.
Start with size. Certainly, not every trash receptacle across your property is the same. It only follows that a large outdoor receptacle requires a different liner than, say, a wastebasket in the bathroom of your front lobby. For obvious reasons, liners that fit right are both cost-effective and eco-friendly. We make it easy to select the right size for every can.
Choose by density. We also help you determine which receptacles require high density liners versus low density options. High density can liners are designed for paper and non-sharp objects under moderate transit conditions. They provide excellent resistance to punctures and moderate resistance to tearing. Low density liners are better for sharper objects as they provide excellent resistance for both punctures and tearing.
Go green or highly protective. We also offer can liners that are 100% biodegradable and compostable. These BioStar liners can meet the ASTM D6400 standards for compostable plastics. Using these can liners help reduce landfill waste and pollution and help conserve water. On the expressly safe side, our Biohazard infectious waste bags are made of thick polyethylene to be especially resistant to punctures, tearing, and leaking. Their high-performance star seal bottom also provides increased security during handling.
The next time you're stocking up on can liners, be sure you select the right size and the right type for all your property's receptacles.