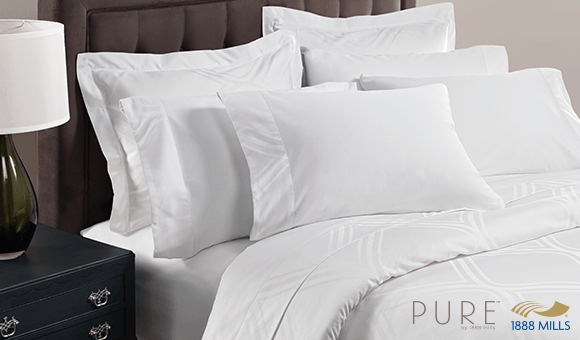 Pure™ sheets and towels from 1888 Mills®
As a professional in hospitality, you know that guest expectations continue to rise. From price to pillows, today's travelers are getting more particular about the details. One company that continues to help hotels and other venues deliver on guest comfort is 1888 Mills, a longtime leader in home and commercial textile manufacturing.
The latest offering from 1888 Mills is its Pure™ line of sheets and towels. Both feature advances in quality along with a greater degree of softness and unique, decorative accents.
1888's Pure towels are made with 100% combed Supima® cotton loops to bring out amazing softness and are Made in the USA. EnduraWeave, a unique blended base construction, provides greater dimensional stability in both the width and length of the towel for superior shape retention. EnduraWeave also extends the overall product life and has been proven to outlast a traditional blended towel. Setting this towel assortment apart even further is its distinct and finely detailed dobby border.
The company's Pure line of 350 thread count sheets is also designed to support your best guest experience. Woven from ultra-soft 100% Supima cotton, the sheets feature an ogee jacquard pattern to present a modern appearance and colored hem threads for easy size identification that saves time for housekeeping staff.
The Pure line is just one example of the way 1888 Mills is setting a new standard in product innovation and guest indulgence. Click here to learn more about Pure and what its sheets and towels can do for your hospitality.