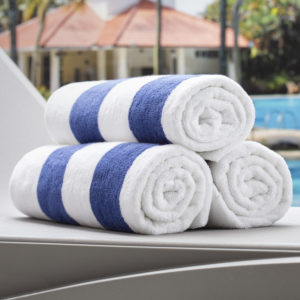 You know your outdoor pool areas will soon be crowded with sunny guests. Whether they're lounging on a stylish recliner or drying off after a morning swim, be sure their experience is complemented by a quality pool towel. To help you stock up and stay ready, we offer competitive prices on our most popular collections.
Comfort and Care
Our own Registry® Pool Towel collection aims to delight guests and deliver value. Its unique production process is designed to prevent fading and keep colors vibrant. Supported by 100% Ring Spun cotton, these Registry options blend softness and absorbency and are ready to ship, for less.
Design and Durability
FibertoneTM Towels from 1888 Mills are known for their design and durability. In fact, while it may be tempting to stay away from colored or designed towels because of their tendency to fade, Fibertone towels are made with a patented color technology producing stable colors that don't fade or bleed. Their color holds up to harsh chemicals and sunlight, making them the ideal poolside companion.
Style and Substance
We also offer soft, durable Martex® pool towels from WestPoint® Hospitality. Made of 100% cotton, each WestPoint towel is crisp and clean – and two options feature a nautical blue stripe that adds a touch of style. Plus, your staff can launder frequently without worrying about wear and tear.
Be sure your guests can wrap up in cozy warmth after a long day in the sun. With competitive prices and a colorful assortment, now's the time to get your order in.