It's true. In just 20 minutes, the number of microbes on a surface can double. That's why it's important to have a coordinated and consistent plan of attack.
Traditional sanitization and disinfection products may clean and/or disinfect, but they don't necessarily keep working after initial contact. This leaves surfaces vulnerable to re-contamination in a matter of seconds after the application is applied.
Well, P&G Professional has taken action to deliver a powerful solution. By partnering with Microban®– the global leader in antimicrobial, odor control, and surface modification technologies – P&G has introduced three new sanitization/disinfection products to address the re-contamination of surfaces.
P&G Professional believes that investing in a cleaning and sanitization program is a pillar of delivering a great guest experience. It partners with professionals who aim to make every experience count.
Microban 24-hour sanitizers deliver new benefits that include:
After the product is initially sprayed, has needed contact time, and is wiped away, a residual semi-permanent polymer is left behind to protect the surface from 99.9% of organisms.
Microban technology works long beyond the initial contact – it protects the surface from organism growth for up to 24 hours.  In fact, it is the ONLY professional use product that can make this claim.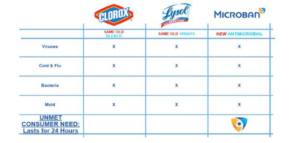 What makes Microban apart from traditional disinfectants?
Microban 24 provides continuous antibacterial sanitizing for up to 24 hours. It is the ONLY product for professional use that makes this claim!
Available now
The new Microban® ready-to-use lineup consists of three items to clean, disinfect/sanitize, and deodorize:
All three products have a light citrus scent and sanitize in as little as 10 seconds, killing 99.9% of organisms and keeping surfaces sanitized between cleanings for up to 24 hours.
With Microban, you have the ability to clean, disinfect, and protect against key organisms. Please click here for more information on task areas and usage.