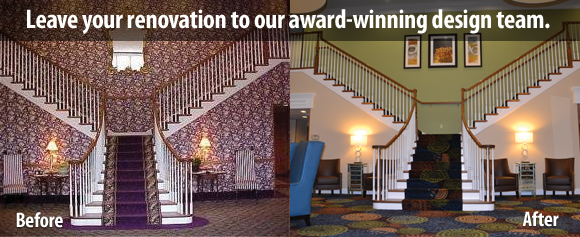 With the economy finally getting back on track, it's now easier to get the financing you need for rebranding, conversions, renovations or new construction projects. The time is right to get a property improvement plan (PIP) on the table. It is one of the most critical components in improving your guest experience and increasing revPAR.
Why a PIP? Why now?
The purpose of most PIPs is to keep properties in compliance with all existing and new brand standards. Franchisors want to protect their brands and the interests of their investors, as well as give guests the consistent, fully updated experiences they are looking for in today's market. So, the question is, "How do you implement a PIP with as much efficiency (and as few headaches) as possible?"
Know your numbers
Taking time to understand the bid process and construction planning is essential. Start by making a side-by-side comparison of potential resources and their bids to be sure all feature the same scope and details. Here are some helpful tips to consider:
Don't assume the lowest bid is the best price. Does it include all the same elements of the higher bids?
Avoid skimping on quality of goods and materials in order to save money. Most branded hotels have specific products that must be used so there may be little variation in pricing. But if there is, take into consideration the lifecycles of goods and their replacement value. For example, will the lower-priced draperies fade in sunlight and need to be replaced more often?
Be sure each bidder has policies in place regarding workers' interaction with guests, on-the-job conduct, smoking/lunch breaks, radio playing, trash disposal, cleanup, etc.
Work with experienced hospitality professionals to maximize ROI
Implementing a PIP can be an expensive proposition. When renovations involve construction, it's critical to contract with professionals that specialize in executing hospitality projects. They will understand the importance of keeping your property fully operational during the project and will develop specific strategies for isolating the construction phase of the project for minimal impact on your property and your guests.
With the ultimate goal of achieving and maintaining high brand standards, you might want to employ a turnkey partner to execute the PIP. By turning your PIP over to these experts, you can concentrate on increasing your bookings and satisfying guests, while leaving the details of property improvement to them.
The benefits are enticing …
Elimination of the headaches you don't want and the freedom to focus on running your business
Minimization of the impact of the renovation on your budget, your staff, and your guests
Quality improvement and cost savings
A turnkey partner focused on the hospitality market must have the experience, resources and talent to execute your project efficiently and cost-effectively.
What to look for in a turnkey PIP partner
A partner who has a deep understanding of your brand, your property and your business will have the knowledge required to execute your PIP in the most professional and efficient manner. You'll also be able to take advantage of the economies of scale this partner offers, from FF&E options to inspection services and ADA compliance. Here are more factors to consider when making your decision:
Choose a partner with the right expertise. Look for award-winning design and brand-strengthening solutions that are in line with your property's and brand's unique needs.
Be sure the firm you are considering can deliver your brand consistently, whether it is working on one property or across multiple properties.
Evaluate project management expertise. A favorable track record isn't created overnight – it's built over time, with strong relationships that continue long after a project is completed.
Ensure that your partner produces a design that fits your overall budget and timeline requirements.
Look for clear indicators of innovation and cutting-edge technology, like an online design center.
A full-circle, 360° approach will offer the most value and expertise for the money because every aspect of the project is covered, from project financial management and design development through procurement and implementation.
Only American Hotel Register Company provides 360° OS&E and FF&E solutions for the hospitality industry.
The Holiday Inn Express Hotel & Suites in Normal, IL, recently won the 2012 Holiday Inn Express Renovation of the Year award at the Annual IHG Conference. This was just one example of the hundreds of projects that was managed by American Hotel's FF&E Solutions team in 2012. As a result of the collaborative efforts of American Hotel and IHG, this hotel is experiencing its highest occupancy rates in 12 years.
 So, whether it's one room or one thousand, or whether you're planning a renovation, conversion or new build, you'll find our experts will go above and beyond your expectations. Join the industry's top management companies and hoteliers – choose American Hotel for your next project.
 360° solutions, with world-class service designed around you
Not sure where to start? Contact us today!