In this new series, we spotlight independent hotels to learn more about the everyday challenges, rewards, and opportunities of running an independent property.
Location: Beverly, Massachusetts
Occupancy: 13 rooms
Open: Year round
The Cabot Lodge truly embodies the saying, "good things come in small packages." Its petite, cozy guest rooms are inspired by the West Indies as well as the sleeping quarters of historic New England Clipper Ships, offering guests both historical charm and modern amenities.
Having just opened its doors in late October 2019, The Cabot Lodge may be new to Beverly, but it's already creating a lot of buzz. We chatted with Head of House Annie Brown Coe to learn more about opening, and running, a successful independent property.
Q. Tell us a little bit about your property – its history and what makes it unique.
Annie: The concept is built around the local history of Beverly. The founding families of the city were in the shipping and trading industry in the 18th century. They did a lot of trading in the West Indies. So, our property is influenced by the West Indies as well as colonial New England. The furniture design is bright and fun, and it's something that draws the eye, especially for people coming off the street or viewing our property on the website. It's a fun, different experience.
Q. How do you promote your property?
Annie: Before we opened, we didn't have a product, or guests, so we were relying on word of mouth. Since we're near Salem, Halloween is a huge draw, so opening in October was our target. Guests had to book early and take a risk booking a hotel that wasn't even open yet.
Now that we've had guests, we have glowing reviews that help drive awareness and visits. My true belief is the guests should tell the experience – their words will set the expectation for the next guests. If they evangelize, then that's the best marketing we can ask for.
Q. Do you cater to a certain type of demographic?
Annie: We are learning as we go. So far, we've had a mix of business travelers, couples, and families. Around Halloween, especially, we had a lot of tourists who traveled here from all over the world. It's still a little too early to tell what our sweet spot is, but we're tracking with data so we can learn and evolve.
Q. What are some of the biggest challenges when it comes to buying products?
Annie: In a boutique space, you want it to be customizable and genuinely unique. Buying in small quantities and sampling products can be a challenge. Compared to a 100-room hotel, a 13-room hotel is hard to purchase for, because we don't need the large case quantities.
That's why I really appreciate the level of service I receive from my rep at American Hotel. It's clear that American Hotel cares about boutique hotels because of how accommodating they are even for a small purchase.
It's also important to be scrappy and do your research to find the best products at the best prices. All in all, it's about finding the right partner to help you navigate purchasing issues and find solutions.
Q. Are there certain amenities that are unique to your hotel?
Annie: A lot of what we feature is local, and our guests notice and appreciate that. We source everything from soaps and shampoos to coffee and chocolate locally.
Anything that the guests are touching or consuming needs to be of the highest quality – whether it's sheets, mattresses, or consumables. So those are the things we spend the most time vetting. We also continuously survey guests and provide that constructive feedback to the vendor.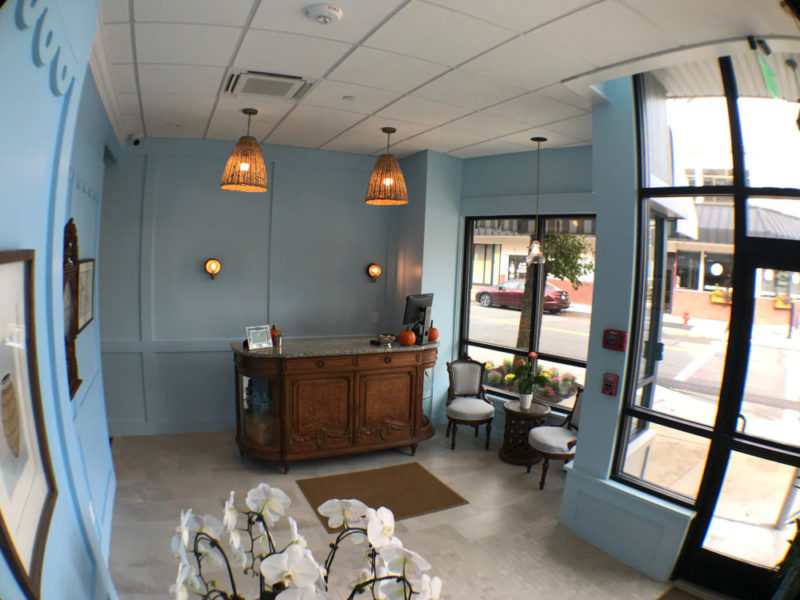 Q. What are some other roadblocks you face as an independent hotel? How do you overcome these challenges?
Annie: One of the biggest challenges is having brand power over bigger brands or legacy names. Some of the local hotels have been here a long time, and customers may have loyalty points with a certain chain, so they'll go with them. I'm working hard with my team to get positive reviews so we can overcompensate for some of those challenges with really happy guests. If people spread the word, they become our ambassadors.
Q. What are some general trends you're seeing for independent hotels?
Annie: Overall, guests are more involved in their hotel selection. It's so easily accessible these days to learn about a property – there is amazing transparency.
Another trend I'm seeing is that guests are traveling more efficiently, because they are traveling more often and don't necessarily stay in one place for a long time. For example, hotels are doing away with dressers as a space-saving method. It's a very Millennial, business travel-driven trend.
We're also trying to stay on the cutting edge when it comes to technology. The challenge is finding balance between using technology to make things like checking in and out more convenient for guests, while also providing that personal touch.
Q. Since you just opened your property, you are in the thick of it, but what advice would you give to those new to owning or managing an independent hotel?
Annie: What stands out the most is listening to your guests. While you need to have a good gut instinct to make decisions, it's also important to take guests' needs into consideration. You also need to budget appropriately and think ahead about what you're going to need in the future.
Lastly, you must stay on top of hotel trends and make sure your property doesn't get outdated or shabby. Things are changing, and if you don't face the facts, you'll fall behind.