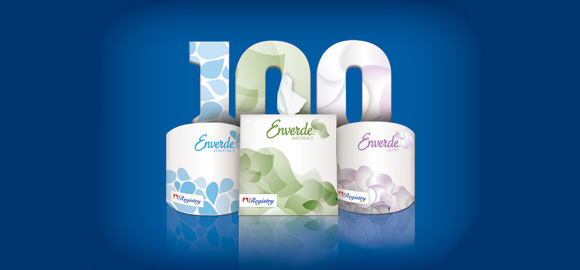 Today, most hospitality businesses are looking to strengthen their sustainability practices. With the introduction of Enverde™, a line of bath and facial tissue that's 100% eco-friendly and 100% sourced in North America, your business can take another sustainable step forward.
Eco-smart practices and products can help hotels save money and attract new business. Consider that IBM doesn't book a meeting or conference without first assessing a hotel's green initiatives.1 With that, more travelers now recognize the symbols of independent certification bodies such as Green Seal and Forest Stewardship Council (FSC).
Enverde reflects our commitment to developing and distributing products that meet the industry's highest environmental standards. With three quality offerings — Essentials, Naturals, and Ultra — Enverde is part of our private Registry® brand portfolio of products and the latest addition to our Living Green collection of environmentally sensitive products.
Essentials and Naturals are manufactured with 100% recycled paper. Enverde Naturals bath and facial tissue (flat box) have received Green Seal certification. Enverde Ultra is manufactured with 100% virgin fiber and has received FSC certification. Packaging for this eco-friendly line also uses 100% recycled materials.
Smart products like Enverde can help you preserve natural resources, reduce operational costs and gain competitive advantages in the marketplace. To learn more about Enverde and place an order, visit americanhotel.com/enverde.