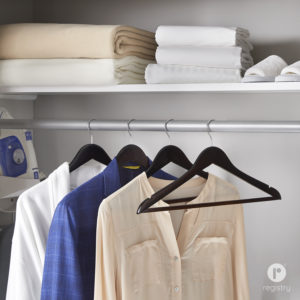 As you know, hangers are a big deal to hotel guests. They expect the guest room to be equipped with enough to suit their needs – with hanger types that can handle not just dress shirts but pants, dresses, skirts, and sport coats. It's also nice when hotel hangers match a property's theme or décor. Of course, when there are preferences, there are also budgets. To help sort out any hang-ups, let's take a quick, closer look at today's hotel-quality hangers.
Know the hooks
It's important to remember Open Hook hangers are the most common. They fit on almost any closet hanger rod and can be removed and returned easily. For those same reasons, however, they are often stolen from properties. Small Hook hangers are very similar to standard open hook, except they can only be used with special narrow hanger rods, 5⁄8″ in diameter (standard hanger bar diameters usually run 1″ to 11⁄2″ in diameter). Ball Top hangers are designed specifically to prevent theft while still offering guests the convenience of removing hangers from the closet. They can only be used with a special ball top receptacle or special slotted wall racks.
Understand the shapes
Contoured Hangers were originally designed for finer garments such as dress suits. The curved design allows the shoulder area of garments to hang more naturally. The contour hanger has a better design for clothing. Conclave Hangers provide similar benefits as the contoured hanger but feature two straight "arms" joined at an angle, which allow clothes to hang naturally. Straight Hangers feature a straight design that makes them easier to manufacture – bringing down the cost of the hanger. Though more economical, the straight hanger does not allow garments to hang as naturally.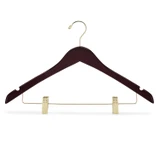 Assess the thickness
We offer a smart assortment of hangers through our own Registry brand. This includes options of various thickness. Strength is one of the more obvious benefits of a thicker hanger. The thicker the hanger, the less likely it is to bow or warp. Wood hangers are made of two separate pieces of wood joined in the middle.
However, a thicker hanger does not always mean a better one. The tensile strength of the hook and how it is anchored determines the overall strength of the hanger. The material a hanger is made of will also determine its strength. A 3⁄16″-thick steel rod hanger is much more durable than a 3⁄8″-thick wood hanger. Support in the garment shoulder area is another benefit of a thicker hanger. Thin hangers tend to form shoulder creases if a garment is left on the hanger for a while. Thicker hangers provide a wider surface area in the shoulders and often are rounded, reducing the possibility of creases.
Consider the user
We distinguish between men's hangers and women's hangers solely for the purpose of identifying which hanger has a wooden pants bar ("men's" hanger) and which hanger has a metal skirt/pants bar and clips ("women's" hanger).
Men's hangers have a wooden pants bar that is either nailed directly to the hanger (as in our economy hangers) or is supported by a metal clamping bar (as usually found in our higher-end hangers). The metal clamping bar keeps pants from slipping off the bar and onto the floor. Women's hangers, with a metal skirt/pants bar and clips, are designed for garments that hang better clipped than folded on a pants bar (skirts, some slacks, etc.).
We hope this hotel hanger review helps you keep every closet and coat check guest ready. Remember, you can always reach out to us at www.americanhotel.com or by calling 1-800-323-5686.