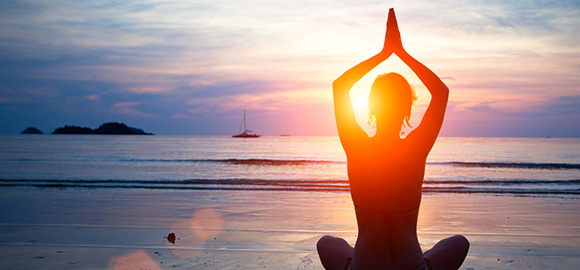 With the growing trend of health and wellness, travelers are now demanding more from their stay – from healthier food and spa treatments to meditation. Explore the latest wellness movements hitting the hospitality industry, and consider ways to make your business healthier.
Stressing the Physical Form. Though exercise isn't exactly high on everyone's list of ways to spend a vacation, a recent survey showed that 70% of travelers want a gym with both cardio machines and weights. Closely behind the fully equipped gym is a desire for more exercise options, according to the survey. Many hotels now offer fitness programs complete with a variety of class offerings – including dance-like exercises such as Zumba, indoor and outdoor yoga and meditation classes, and fitness boot camps. Don't have the space for all that fitness? Not to worry. Many smaller venues partner with a nearby fitness center to meet the needs of their guests.
Back to Nature. If there is one word to sum up the health and wellness movement in 2014 it's 'natural' – natural beauty, natural food, natural products. Delivering on the "less is more" appeal involves a closer look at your amenities. Reevaluate any scents and aromatherapy that don't take an organic or natural approach. Do the same for food. There are a lot of terms being tossed out nowadays when it comes to eating – farm-to-table, organic, raw. Learn them, use them, and market them.
Ensure A Good Night's Sleep. Hotels are improving guest health by changing the sleep game. No longer will guests fret over whether or not they'll have a lumpy pillow or a bed with wonky springs. Now, finding the perfect pillow for guests is easy. For many hotels, promising sound sleep involves ambient sound machines, blackout shades, aromatherapy, and even chocolates and lighting that emit a dose of sleep-inducing melatonin.
We want to know – how is your venue attracting health conscious guests? Tell us in the comments!