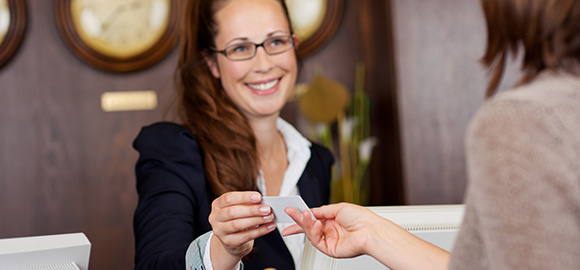 Guest satisfaction. As a hotelier or hospitality professional, you know that this is the pillar of a successful business. Every hotel strives to meet guest demands and desires, but it's not always easy to decipher what they're asking for. This quick guide helps explain some of the biggest must-haves (and must-not's) for happy guests in 2014.
Yes, Please Do.
Wi-Fi – It's a digital world. Therefore, Wi-Fi remains the number one guest request. According to recent polls, 89% of hotel guests expect free Wi-Fi, with only 11% reporting that paid access to the Internet is an acceptable cost.
Free Stuff – Ok, we know this is a little vague, but that's on purpose. Think about it, breakfast is good, but free breakfast is just so much tastier, isn't it? The same goes for parking, personal care items, and a bottle or two of complimentary water in-room. Basically, hotel guests want as many freebies as possible – but they don't necessarily care what those freebies are.
A High-End Coffee Maker – In order to get down to the lobby for that free breakfast, you have to have something to get you out of bed. Cue the coffee maker! You don't need to put out $10 for an ounce beans, but guests expect a decent cup of coffee, and they don't want to have to buy it at your hotel restaurant.
Seasonal Activities & Experiences – The experiences a hotel can offer are the difference between a pleasant stay, and a memorable vacation. You want to aim for the latter of the two. That doesn't mean you have to prepare elaborate vacation packages, but with summer right around the bend, it shouldn't be too difficult to add some outdoor activities and adventures. Venues with plentiful outdoor space could add outdoor fire pits or grills, outdoor yoga, or a free-view movie on the lawn.
No, Thank You.
Over Sharing – Loudly announcing your guests' room numbers and billing can make guests feel vulnerable and uncomfortable. They do not want the entire lobby knowing what room they're staying in. The same goes for check out. Use discretion when reviewing bill details and amounts. Your guests will appreciate the privacy.
Dim Lighting – Don't try to play it off as 'mood lighting'. Guests want to be able to read easily, navigate their messy room littered with luggage and, you know, see their face in the mirror. Besides, dull light bulbs make rooms look dingy, and your guests may wonder if the darkness is hiding dusty furniture.
Tip Envelopes – Your staff works hard and they deserve to be compensated. However, the tip envelope is a slippery slope. To some, asking for a tip looks tacky. Guests that have already spent a small fortune on vacation may feel guilty if they can't afford a few extra bucks, which can leave a bad taste in their mouth come checkout time.
We hope these tips help you increase your guests' delight. What else would you add to this list? Use the comment box below to share your thoughts.