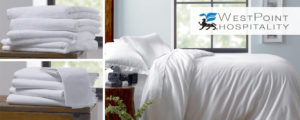 Green Bedding & Towels from WestPoint Hospitality™
As part of American Hotel's commitment to helping you meet your business sustainability goals, we offer a broad selection of environmentally sensitive Living Green products from a host of distinguished suppliers, like WestPoint Hospitality and its premier Martex brand.
Martex Green products are engineered to perform to the highest standards and boast an extended lifecycle without compromising the quality of the guest experience. WestPoint Hospitality utilizes earth-friendly fibers and certified sustainable processing techniques to create these products, which require less water, energy, and less chemical production and maintenance.
All Martex Green fabrics feature DryFast® technology, a proprietary process that makes an incredible performance impact on any cotton or cotton-blended fabric. It reduces drying time and increases stain resistance which ultimately reduces the carbon footprint. In addition, the fabrics are Oeko-Tex certified for textile purity and safety.
Martex Green Bedding
This eco-friendly collection is made of certified organic cotton and blended with recycled polyester. Flat and fitted sheets are equipped with TrueFit colored hem threads for easy size identification. Duvets, pillow shams, mattress pads, blankets, bedskirts, and pillows are also available. Shop Martex Green bedding now.
Martex Green Towels
These responsibly manufactured, cloud-soft towels feature single-ply, ring-spun organic cotton loops for superior absorbency, and  the 75% organic cotton/25% recycled polyester under-weave enhances the towels' durability. Martex Green Towels are Fresh & Ready™ – cured in hot water and ready to use from the package without initial laundering, which reduces money and energy costs. Shop Martex Green towels now.
Shop all Martex Green products now and save thru March 24.