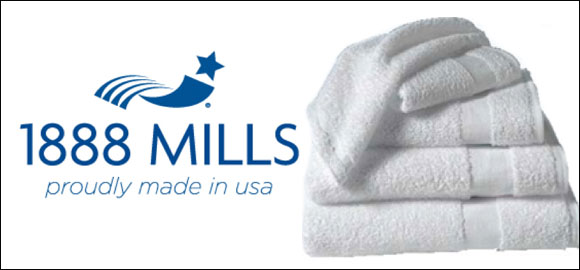 Do you ever wonder where the various products that go into a hotel room are made at?  Although we have become accustomed to purchasing products that are made overseas, we frequently hear stories in the news of poor product construction or unsafe and even potentially dangerous working conditions.
More businesses are turning their attention back to US made goods, and for good reason.  The benefits of purchasing products that are made in the US are considerable:
Great quality products that are made in safe and ethical working conditions.
Substantially shorter delivery times to aid in sudden outage situations.
Supports local communites and the US economy as a whole
One company which has thrived on producing US-made products is 1888 Mills.  Tracing deep roots back to the heritage of textile manufacturing in the United States, 1888 Mills' Griffin, Georgia towel facilities were started by a group of textile veterans with a goal of making US production a part of global strategy.
While their competitors decided to go "off shore", 1888 Mills chose to make US manufacturing an integral part of its global plan and they now operate one of the last remaining towel manufacturing plants in the US.
1888 Mills is proud to have over 200 manufacturing jobs at its facilies in Griffin, many of whom have worked in their Griffin, GA plant for decades.  These jobs support families, build schools, provide leadership for the local community, and provide purchasing power needed to fuel the US economy.
In additon to providing quality towels to major retailors, 1888 Mills also manufactures many of the towels used in the hospitality industry.  Their Crown Touch® and Magnificence® towel collections are popular choices among many different hotels.
Please contact us to learn more about the 1888 Mills story!