In this new series, we spotlight independent hotels to learn more about the everyday challenges, rewards, and opportunities of running an independent property.
Location: Thibodaux, Louisiana
Occupancy: 94 rooms
Open: Year-round
Website: thecarmelinn.com
Surrounded by large oak trees and southern mansions along Bayou Lafourche, the Carmel Inn and Suites is a Louisiana landmark known for its family-run hospitality, which includes complimentary morning breakfast. We chatted with operations manager Rhonda R. Gaubert to learn more about running a successful independent property in the heart of Cajun country.
Tell us a little bit about your property – its history and what makes it unique.
Rhonda: Well, this area and this property is filled with history. In fact, we're a historic landmark hotel. In 1855 it was a convent and then a catholic high school. My husband's family – the Gaubert family – bought the building and in 1973 transformed it into a Holiday Inn. It operated under other flags as well but, in 2009, the hotel was restored to reflect its history and was renamed the Carmel Inn & Suites. My husband, Greg Gaubert, is managing partner and owner and our family has been running it since then. Today, it's ranked the #1 hotel in Thibodaux by TripAdvisor.
How do you advertise/promote your property – through Trip Advisor? Word of mouth?
Rhonda: We definitely depend on online reviews and bookings through TripAdvisor and Expedia. We also have a great relationship with Nichols State University, which is located in Thibodaux, so word of mouth is very important to us. We treat our guests like family, whether they are parents visiting their college student or visitors who are part of the medical tourism and eco-tourism in the area.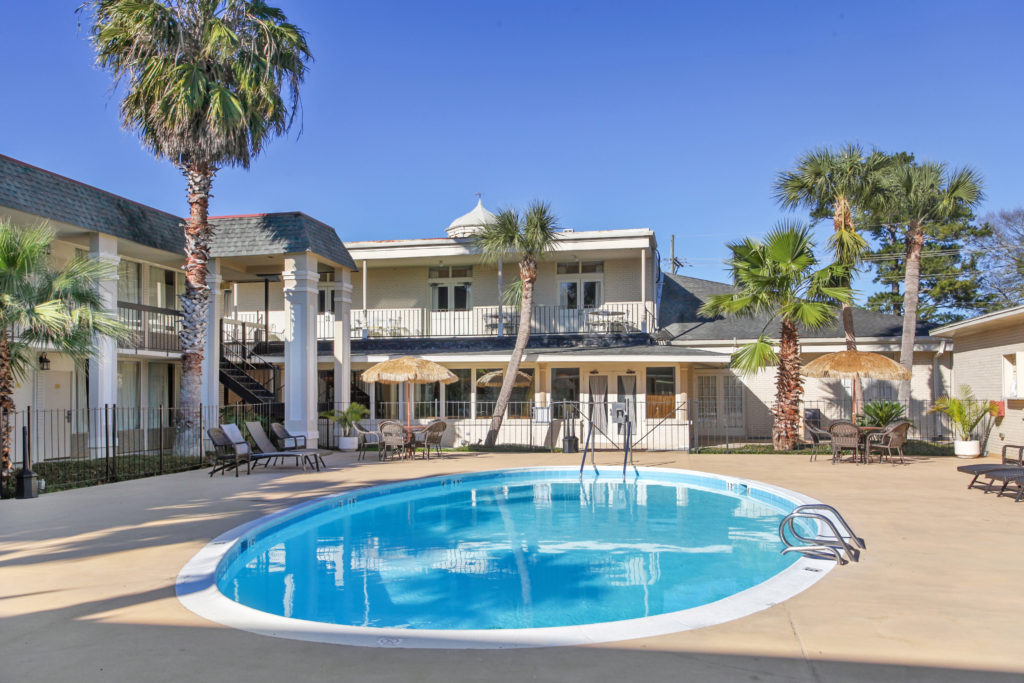 Do you cater to a certain type of demographic? (family friendly vs more catered toward adults/honeymooners, etc.)
Rhonda: You might be surprised but we have hosted people from all over the world. We even have a translator available at the desk who can translate in 10 different languages. It's not just the university drawing them. There are others who visit our part of the bayou system, and all the historic plantations nearby. We also have had many movies filmed in and around Thibodaux, like the Ray Charles story, "The Haunting," and "The Butler." We've had more than a few Hollywood actors stay here at the hotel.
What are some of the pain points you have when it comes to buying products/supplying your hotel with products?
Rhonda: We are a mom and pop operation, so our budget is tight, and we don't have the storage to buy supplies in bulk. That can be challenging when there are purchase minimums on certain items. So we have to be very strategic about ordering what we need for the property. But we also try to offer a local feel. Our bath soap is from a local organic distributor, and our coffee is from a Louisiana brewer. People notice when you use eco-friendly products that are unique to your community.
What advice would you give to those new to owning/managing an indy hotel?
Rhonda: Well, you have to understand that it's a life commitment. You have to be fully involved to make it work. We treat our 24 employees like family, so they are also invested in our success. It does take time and effort. We are not New Orleans, Baton Rouge or Lafayette, so it has taken some time for more people to know about us and know about the different activities and attractions in our area. Every year, we welcome more guests.
At American Hotel, we deliver all you need, when you need it … so you can focus on what matters most. Explore our vast product assortment at americanhotel.com.