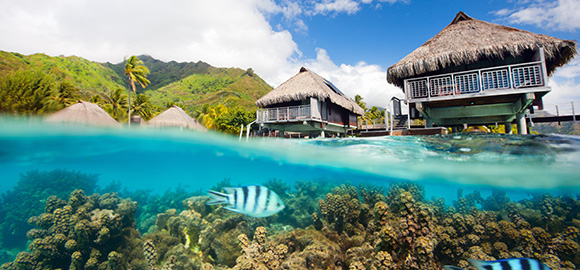 When you hear "themed hotel," there's a good chance that Disney springs to mind. But, it's not just theme parks embarking on this trend. These days, themed hotels can be found the world round, from teensy little towns to metropolitan cities to sprawling vacation resorts. The daring trend, although not for everyone, satisfies guests on a level that the ordinary room and board could not – our inner child or the secret thrill-seeker in all of us.
To many hoteliers, a themed hotel seems risky business. It's a misconception that there aren't enough people interested to stay, for example, in a college dorm themed hotel. But there must be, because venues like the McMenamins Kennedy School (in actuality, a hotel) serve close to half-a-million pints in their pink-tiled in-house brewery designed to look like a ladies restroom. And really, you can't argue with numbers.
So, for those who are venturing into the great allure of theme hotels or are dabbling with themed suites, we've compiled a list of the most unique, talked about, and anticipated hotel destinations.
1) The Propeller Island City Lodge – Berlin, Germany
If you're looking to feed your sense of adventure, Propeller Island is the place to be. From coffins in the attic and flying beds to rooms designed to feel like underground bunkers, Propeller Island has it all. It's more art than hotel and rooms vary depending on the whims of German artist, Lars Stroschen.
2) The Chocolate Boutique Hotel – Bournemouth, England
This is the favored hotel of sweet-tooths everywhere. The hotel truly lives up to its name – it's all chocolate, all the time, but in the warmest way possible. Plush, stylish furnishings in shades of, you guessed it – chocolate – create a cozy environment for any guest. The generous helpings of chocolate in its many forms don't hurt either.
3) Jules Undersea Lodge – Key Largo, FL
For a mere $500 per person and a few scuba lessons, you, too, can take an underwater hotel adventure! Even though you're below the surface, Jules Undersea Lodge doesn't skimp on service. Here, staff divers will hand deliver a well-wrapped pizza straight to your room.
4) The Georgian House – London, England
A.k.a. the "Harry Potter" hotel, the Georgian is currently one of the most talked about theme hotels, but for all the wrong reasons. This is one theme that even the most leery of hoteliers might agree has a massive and eager fan base, but that's just the problem in this case. High expectations led to a serious let-down when patrons realized the hotel was not sanctioned by Warner Bros. Entertainment, J.K. Rowling or the Harry Potter book publishers and was not indeed the "Harry Potter" hotel, but rather just a hotel that duped an adoring fan base.
5) Paramount Hotel & Residences – Dubai, UAE
The much anticipated movie-themed hotel is set to open in 2015, and the world cannot wait. Within hours of opening the first sales of its residences they were sold out. So what can residents and visitors alike expect? Think private screening rooms, home theatre surround sound systems, and classic Hollywood glamour – in short, a movie-lovers dream.
We'd love to hear all about your themed property or suites! Tell us in the comments!