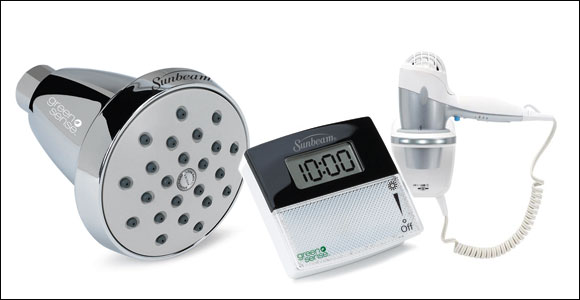 For the Sunbeam® Hospitality team, being sustainable, smart and responsible doesn't mean giving up any of the comforts we've come to know and love while traveling – just being sensible about how we use them.
Anyone want to admit to skipping showers to conserve water?
Don't look at us – and we don't recommend you do it, either.
In fact, it's not even necessary, thanks to the greensense™ line of eco-friendly in-room amenities from the Sunbeam® Hospitality brand.
Launched in 2009, the greensense™ product portfolio has been a guiding light (the low-wattage kind) for the hospitality industry, leading the way with products such as LED dimmable
night-lights and flow-rate-regulating showerheads, potentially saving millions of gallons of water and thousands of hours of energy usage along the way.
Jennifer Hansard, Group Marketing Manager for Sunbeam® Hospitality, loves talking up the line wherever she goes: "I'm constantly amazed at how changing little things – like changing a faucet aerator, for instance – makes an enormous impact on our use of natural resources."
Hansard isn't the only one enamored with the lineup. Hotel managers that took part in the test launch had good things to say about the products – and the savings they were able to achieve from usage. Plus, their guests now had yet another reason to love staying at those particular hotel chains.
"It would be great if all hotels thought like this," wrote one guest. "Going 'green' just makes so much sense on so many levels, from environmental stewardship to the financial savings that hotels can pass along to us as guests." In fact, an average 150-room hotel can save up to $26,000* annually – in water and energy savings – just by converting to the current ensemble of greensense™ products.
As we all continue to share the responsibility of conservation, it's nice to know that, thanks to brands like Sunbeam® Hospitality, we won't have to give up any of the conveniences we've grown accustomed to – especially the showering.
*Savings based on average energy and water use of a 150-room hotel with 67% occupancy converting to a greensense™  showerhead, aerator, iron, hair dryer and night-light.