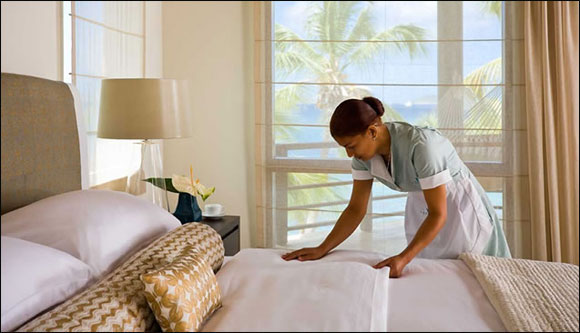 If you've never been directly involved with hotel housekeeping staff, it may seem unnecessary to dedicate an entire week to thanking them. However, let us assure you that housekeeping is one of the most vital departments in all hotels. Not only do housekeepers make guests feel comfortable in a clean, organized room, they also perform extensive amounts of behind-the-scenes jobs such as flipping mattresses, doing hundreds of pounds of laundry per day, and dealing with harsh chemicals.
According to the Les Roches School of Hospitality Management, the hotel industry is expected to grow 4 percent per year through 2019. That's over a 24 percent growth from right now! Competition and the number of housekeeping departments will expand as well, making the need to create and keep a quality housekeeping staff a top priority for hotels.
A typical housekeeper cleans up to 16 rooms per day at an estimated 20-30 minutes per room. And opening the door to each new room is a complete surprise – there's no telling what shape guests have left it in. That's over six hours of squatting, bending, kneeling, lifting, etc. The job requires training, dedication and loyalty – and your entire hotel's reputation can lie with one staff member.
Through proper morale, education and training, fair pay and a little bit of understanding, hotel management can ensure they get the most from their housekeeping department. Rotate jobs that do not have to be performed every day accordingly, assign help when needed for heavy-duty jobs and provide quality supplies. Spend the few extra dollars to get lighter vacuum cleaners, greener chemicals, and easy-push housekeeping carts. Have monthly luncheons and recognize superior staff members. But most importantly – do not treat the staff as insignificant. They are the foundation of your business, ensuring that guests are satisfied, and are an imperative part of keeping rooms in lasting, tip-top shape.
So, how will YOU celebrate International Housekeeping Week this September 9-15?