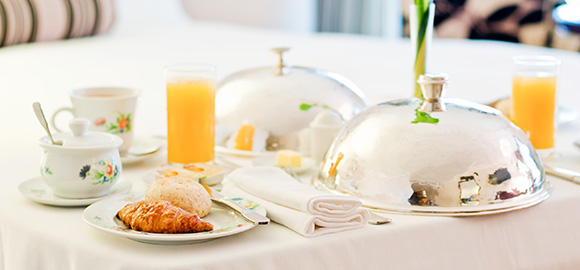 We won't deny it; we love room service. However, we may be alone. The demand for room service has taken a shocking plummet in recent years. Hoteliers have realized they need to change the game if they want to save room service – and here's how they plan to do it:
Whole, Healthy Foods
If a guest wanted to eat highly processed, low-quality food she would have stopped at the fast food joint on her way in. Because the health-minded modern traveler craves something more nutritious, providing whole food items on a room service menu holds much more appeal. Some hotels have even begun to hire nutritionists to work in tandem with chefs to design healthy, spa-inspired foods.
Portability
Guests don't often have the time to waste sitting patiently in their room waiting to have a meal. Portability is key these days. Many hotels are introducing the twenty-minute menu – food items that can be prepared and delivered quickly. But it's not just about the prep-and-serve time; it's also about the portability of the food itself. Items that can be easily toted are gaining popularity – think wraps and burritos. Some hotels are even taking it a step further with grab-and-go picnic baskets so guests can make their room service an adventure beyond the walls of the hotel.
Being Considerate
Show your guests you care, not just about them, but also about the food, the environment – about anything and everything. Take a cue from Seattle's Hotel Max, where high-quality food is packaged in earth-friendly containers, tied up with butchers twine and stamped with a personalized label that reveals the name of the chef who prepared your meal. You want to make your guests feel special? That will certainly work.
Now that you have insider tips on what's trending, you can help make room service an indulgence guests can't wait to experience!